T

asting Notes for Shiraz 2002 Australia
---
---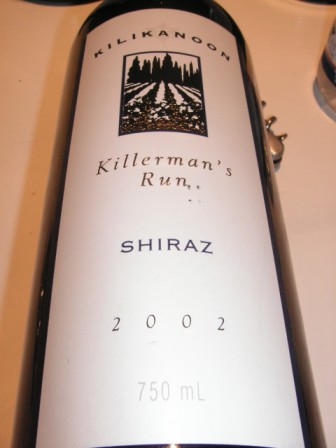 Kilikanoon - Killerman's Run
"Made to showcase the unique flavours of Shiraz, the palate tends to be fruit driven but 
balanced and lengthened by the older oak flavours. A sweet mid palate, soft tannins and 
warmth of character have created a wine with both power and finesse..."
Wow.  We agree.  Great concentration & density of dark fruit.  Big wine.  
Balanced and structured despite the boldness.  
---
"Deep purple/red in colour. The aroma is deep and complex with ripe raspberry, blackberry, 
anise, spice, dark chocolate and vanilla, with subtle hints of mint and earth. The palate is 
multi-layered with silky texture, intense, sweet ripe fruit flavours that are supported by an 
excellent structure and full, long supple savory tannins."
Nice balance between fruit & spice.  Oak influence is evident.  
Can you get better under $40?  Yep.
Recommendation: Drink it.  Buy it to try.
---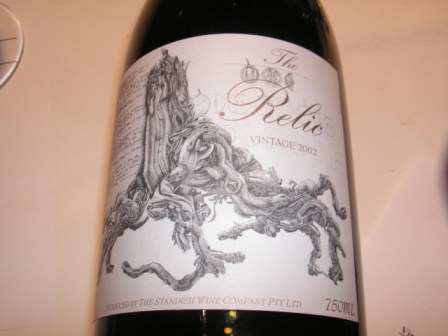 The Standish Wine Company - The Relic
Shiraz with a dash of Viogner ...blackberries, 
lilacs and cassis...Flavors linger on the palate.  
Great wine if a $60 wine is in the budget.  
Recommendation: Buy it and save it for a few years